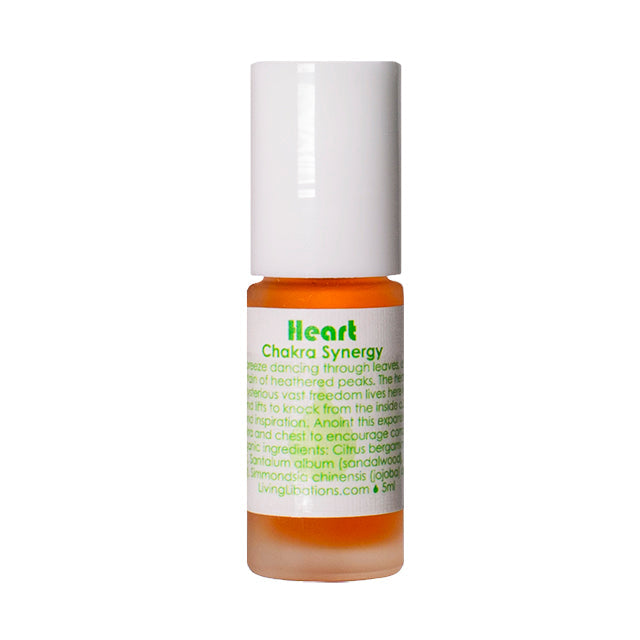 Quick overview
Details
Ingredients
Heart Chakra - Heart, a spiral of breeze dancing through leaves, a valley of merging streams, a mountain of heathered peaks. The heart is the centre of every direction. Mysterious vast freedom lives here. Come in. Longing lifts and lifts to knock from the inside out on the doors of expression, sight, and inspiration. Anoint this expansive love balm to the higher heart chakra and chest to encourage compassion, harmony, and balance.
Chant sound for chakra: Ah
Get your chakras glowing and your nose flowing with the complete Chakra Synergy bundle.
Chakras are energetic spirals of energy in the body that coincide with glands. There are as many electrical currents in the river of your being as there are sparkles in a starry meadow. The breath keeps this river harmoniously flowing, distributing vital source energy through your entire body.
Your susumna is the fluid sap soaring through the trunk of your tree of life. Along our spine's scepter-stem are gems of rainbow orbs that cruise the cerebrospinal muse. The spine is the conduit for the journey of these electrical energies. Flexibility of the spine fuels the flow, and plant essences give liquid light to this journey. Light is the key to this portal land of chakra and energy flow.
The soma of plants ever-offer the gift to expand our beauty; halos of essential oils inspire spiral streams revealing jeweled points of energy. The harmonizing of our chakras flows into the glow of our aura. The auric-field is a mirror of reflectance and acceptance, gleaming inner and outer worlds.
To Use: With a single whiff or a tiny dab, essential oils meld and weld their way into our life force, influencing the mind, emotions, and body. Our Chakra Synergies may be applied to the designated chakra spots (soles of the feet, lower abdomen, navel, chest, neck, brow, and top of the head), to any pulse point, under the nose, enjoyed as a type of personal perfume, and diffused singly or layered. Use it to enhance meditation and yoga or to expand your mind, mood, and musculature.
| | |
| --- | --- |
| Bergamot - Citrus bergamia | Beaming Bergamot is filled with sunny floral-fruit cheer. Renowned for its ability to incite feelings of happiness, our Bergamot oil is distilled from the fruit of the Citrus bergamia tree, which blossoms during the inviting Italian winter. A lemon-bitter orange hybrid, bergamot is cultivated for its potent aromatic properties that boost feelings of well-being and lift the cloud of melancholy moods. |
| Rose - Rosa damascena | Also known as Damask Rose, this essence is made with organic blossoms from the Valley of Roses. It soothes the heart with its elegant aroma. Poets, writers and mystics have extolled its heart-warming effects, which opens the heart to love. This rose offers a fragrance that is deeply rich, honeyed-rosaceous, and full-bodied like a field of blooming buds. |
| Sandalwood - Santalum album | The sanctity of Sandalwood opens the heart and mind with luxuriant notes of nutty, full-bodied heartwood with an ethereal, creamy, sensual finish. This serene aroma serves as a fragrant foundation to the sacred sages. |
| Ylang - Cananga odorata | Euphoric Ylang is an amorous essence that's name translates to "Flower of Flowers." Sweet and sultry Ylang inspires the senses by dispelling negativity with its petals of perfumed positivity. |
| Jojoba - Simmondsia chinensis | Glorious, golden Jojoba is a great base for precious oils and blends as it never goes rancid. It carries the day as it keeps this chrism combined and easy to apply. |
| Rose Quartz | Rose Quartz is a beautiful, balancing pink silica stone that resonates with the heart chakra. |