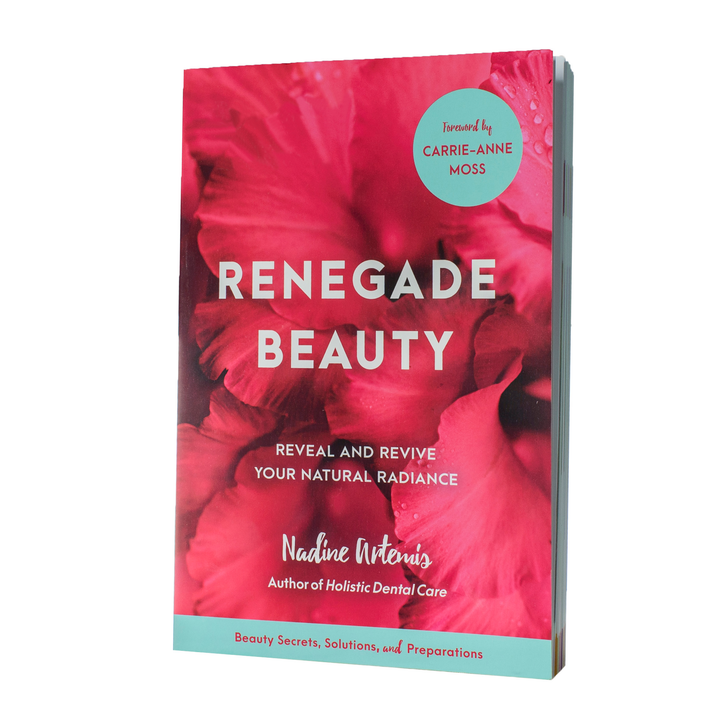 Rethink conventional notions of beauty and wellness, abandon elaborate regimes and synthetic products, and reveal your renegade beauty.
In this essential guide, Nadine Artemis introduces readers to the concept of renegade beauty - the art of doing less and allowing the elements and the life force of nature to revive the body, skin, and soul so our natural radiance can shine through. Anyone stuck in perpetual loops of new products, facials, and dermatologist appointments will find answers as Artemis illustrates the energizing elements of sun, fresh air, water, the earth, and plants. This book is a comprehensive resource for anyone who wants to simplify their self-care, take their health into their own hands, and discover their own radiant beauty.

Discount automatically applied with purchase of 3 or more. Visible at checkout. Terms and conditions apply
Praise for Renegade Beauty
What is beauty? We all feel that a redefinition is in order, but the pioneers in this shift may come from a surprising arena. That is the intersection of science and spirituality, a vanguard front of change that will transform us from the inside out leaving us feeling nurtured, whole, and finally comfortable in our own skin. Renegade Beauty is a guide to this new terrain, complete with a personal roadmap for your own experience of beauty from the practical to the etheric. More than simply a beauty book, this is one of the most comprehensive guides to the new paradigm of health and medicine including essential myth-busting and evidence-based tips for true health and wellness. A long-time fan and supporter of Nadine's alchemical creations, this text reminds us how to get exactly where we most desire to go - home to the web of wonder that is the natural world. This book has soared to the top of my list for awakened vitality and self-healing.
—K. BROGAN MD, Holistic Psychiatrist and Author of The NY Times Bestseller, A Mind of Your Own
"Renegade Beauty melted me into the revelation that my body will heal –– and beautify –– if I stop short-circuiting it's power with chemicals and quick fixes. The beauty industry is a disempowering (and toxic) industry. Nadine's type of knowledge is the lotion and potion we need to apply."
—DANIELLE LAPORTE, author of The Desire Map and White Hot Truth
"Nadine Artemis has been my essential oil mentor since I was 19 years old. She is a savant alchemist whose teachings are on the front lines of the self-care movement. I recommend her products and her teachings of profound visionary service to any and all."
—ALANIS MORISSETTE
"Simply reading Renegade Beauty made me feel more beautiful. Nadine's scientific and poetic style equals the lavish abundance of nature that she extols to restore. I loved reading about beauty from Nadine's perspective."
—CAROL ALT, Health Advocate, Actor, Fox News Host, Supermodel and Author of A Healthy You
The truth will set you free. Seek and thou shall find… These are universal truths that stand the test of time. And these virtues, it seems to me, are at the heart of what these words Renegade Beauty mean.
The pursuit of vitality is navigated through deep listening. We quickly burn through our youthful reserves, as few of us have been taught how to replenish. The loss of this vital energy is key as to whether we live an inspired life. (One must have stamina to pursue what one dares to imagine.)
Nature has always been my teacher, so to turn to her divine intelligence as the source of my healing, renewed potency, and sustained power simply makes sense. All around us we see what is to become of us: old-age, illness, death… It is mimicked in nature all around us. No flower stays in full bloom forever. The wither comes for us all. Thank you, Nadine, for generously sharing your life's passion with us. Guiding us and reminding us what we know is true. She ain't called Mother Nature for nuthin'. She is what we are made of. Therefore, it is she that can heal us.
The beauty one seeks IS the gift returned by the vitality lived in pursuit of these Truths.
Stay thirsty - and let Them spill unto Thee. There is no way to peace; peace is the way.
—LISA BONET ~ LILAKOI MOON
"Finally! The truth about beauty and skincare from someone I love and trust whose book will be a bible on the bookshelf for my three girls.
I am most excited that this book will positively impact the future generations of young girls and women who are becoming aware earlier and younger in their lives of the emphasis society places on appearance and beauty. Nadine's knowledge and her deep wisdom about the body and what TRULY creates beauty is obvious and will be a relief for women everywhere. And, young women will be armed with knowledge of what to avoid and what to embrace and all with the poetic beauty that springs forth from this magical woman's heart."
—MUNEEZA AHMED, Medical Intuitive, Nutrition & Emotional Wellness Coach
Paperback: 448 pages
Publisher: North Atlantic Books (Nov. 14 2017)
Language: English
ISBN-10: 1583949690
ISBN-13: 978-1583949696
Product Dimensions: 15.5 x 2.3 x 23.1 cm
Shipping Weight: 835 g