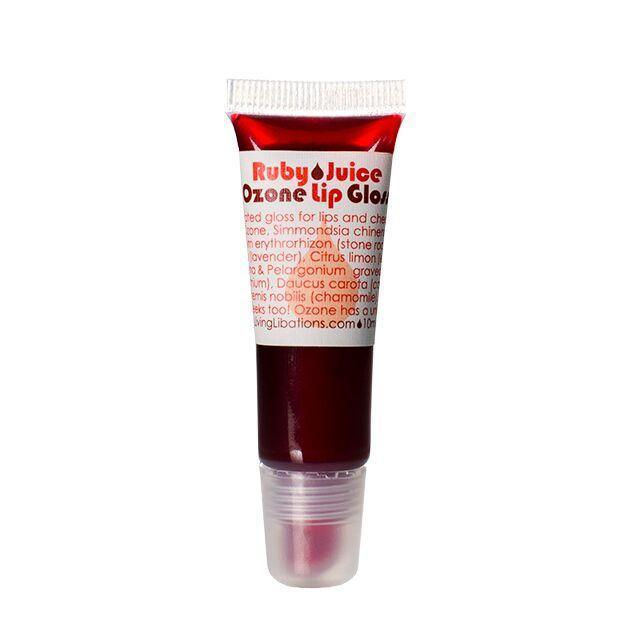 Quick overview
Details
Ingredients
Our Ruby Juice Ozonated Lip Gloss is one of a kind. We have designed a juicy, botanical-based gloss for cheeks and lips alike. Ruby Juice bursts with buxom botanicals, opulent essential oils, replenishing roots, beneficial berries and outstanding ozone. We have taken this blend around the botanical bend, infusing our Ruby Juice with the rejuvenating power of pure ozone. This gorgeous gloss is the first naturally pigmented gloss to use ozone (instead of petroleum based gels and dyes) to caress lips and cheeks with rosy colour and nonstop nourishment.
Distilling the alchemy of nature's purest, most nourishing botanicals is nothing new for us. Yet Ruby Juice Ozonated Lip Glossoffers something new: an infusion of ozone to anoint rosy lips and cheeks with three powerful atoms of fortification. The Jojoba oil in Ruby Juice lip gloss has been infused with three atoms of oxygen, or "ozone." Ozone oxygenates the skin for a fresh, dewy glow.
The process of ozonation was first harnessed and applied by Nikola Tesla, the electrical genius who, according to some sources, was first to "discover" electricity before Thomas Edison. By the end of the nineteenth century, Tesla's company had patented over 300 processes related to ozone and oxygen therapies, the most important of which (at least to us!) was the process to produce solidified ozone. Tesla shared this process with the doctors of his day, and his process has once again become popular in natural products today.
By infusing our Ruby Juice Ozonated Lip Gloss with the pure power of ozone, we have created a hybrid lip gloss-oral care serum; each dewy kiss of this colorful gloss moisturizes and nourishes the lips, while ozone works to block bad breath causing bacteria from taking hold.
Understanding the Aroma of Ozone
If you are new to ozonated oil, the smell can be surprising as it is reminiscent of the aroma of charged air during a lightning storm. Most people love the fresh charged aroma of ozonated oil while others, at first sniff, find it strong and unusual. These folks find it more enjoyable after using ozone for a few days. Each formula is enhanced with the delectable dance of infused aromatic essential oils to further activate the olfactory and skin experience.
Use: Dab upon the lips as a juicy gloss or a little on the cheeks for a rosy, silky glow.
10ml
| | |
| --- | --- |
| Ozonated Jojoba - Simmondsia chinensis O3 | Jojoba is juiced with opulent ozone to supercharge the lips! When ozone is added to wholesome Jojoba a whole new level of abundance is achieved. Activated oxygen, ozone, is made by charging pure oxygen (two oxygen atoms - O2) to become pure ozone (with three oxygen atoms - O3). This freshly activated oxygen is then slowly infused into Jojoba. Bubbling ozone through Jojoba further fortifies the oil with a breath of fresh air infusing life force right into the skin. Jojoba is the desert's answer to dryness. Dwelling among sand storms and cacti, Jojoba emerges as an ebullient, emollient oasis. As this strong shrub bakes underneath the desert sun, pearls of liquid gold germinate inside Jojoba seeds. These seeds burst forth a golden oil that is cold-press extracted to deliver a lipid that is super similar to our skin's natural sebum. Sinking effortlessly into skin, it transfers phytonutrients supporting the skin retain to moisture and replenish elasticity. Brilliantly beneficial to skin with its abundance of nutrients and vitamin E tocopherols, Jojoba lubricates like oil, yet it is actually a liquid plant wax that is resiliently rich and silky. |
| Roses over Geranium - Rosa damascena with Pelargonium graveolens | Our unique choreographed co-distillation combines the benefits of Rose Otto and Geranium essential oil, creating a consummate cocktail of rejuvenating power. This organic essence leaves the skin with an undeniable glow. Roses Over Geranium is an optimal ingredient for reducing the appearance of scars. |
| Carrot Seed - Daucus carota | Carrot Seed oil is one of the most intensely moisturizing oils in our collection. Organic Queen Anne's Lace kisses the lips and face with delectable dewiness, awesome antioxidants, and amazing anti-aging action. |
| Stone Root - Collinsonia canadensis | This herb harnesses the impassible powers of juicy roots grown beneath the earth's flowers. Stone Root relieves lips of redness and puffiness, while soothing, calming, and clarifying the skin with its tonifying action. |
| Chamomile - Anthemis nobilis | Comforting Chamomile is steam-distilled from the delicate diminutive petals of French chamomile flowers. It is regenerative and toning. |
| Lemon - Citrus limon | Luscious Lemon clarifies, energizes, and purifies the skin from head to toe. It is excellent in cleansers for acne and bumps. Lemon tones, firms, and infuses skin with resilience. |
| Lavender - Lavandula angustifolia | Lovely Lavender is a gentle-yet-powerful skin tonic that is restorative and calming. It relaxes redness and cools heat. Lavender can be used to improve the appearance of scars, even out skin tone, and balance the skin's sebum levels. |
Key Features:
Lip Tint
Vegan Lip Gloss
Natural Makeup