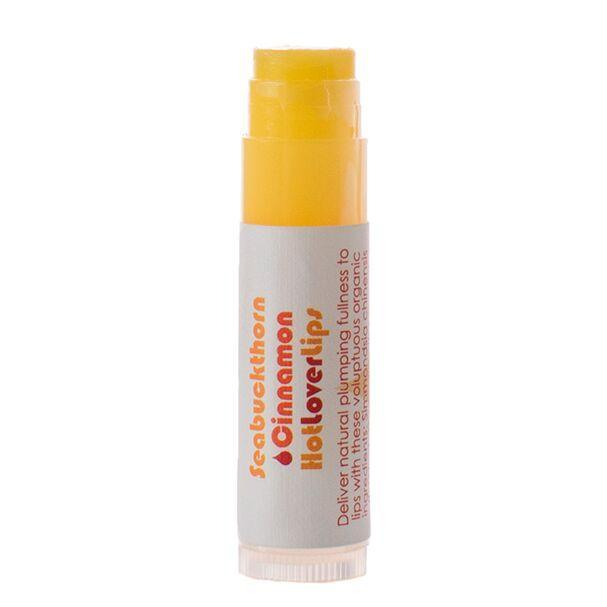 Quick overview
Details
Ingredients
Pucker up! Seabuckthorn Cinnamon Hot Lover Lips delivers a natural plumping fullness by adding heat and tingle with the caress of voluptuous botanicals. Enjoy a full, radiant smile.


Seabuckthorn Cinnamon Hot Lover Lips naturally creates the look of full bodied lips, without harsh, drying chemicals. Our plant-powered formula enhances the natural color and shape of your lips by invigorating the skin with a spicy, tingly blend of Cinnamon, Cayenne, Turmeric and Ginger essential oils join Golden Jojoba and a dash of Beeswax. The result? Full-bodied lips for a perfectly-plumped pout.
Use: Apply to lips to keep them lovely all day long. The balm is designed to make the lips feel warm, plump and rosy. Patch test first to check for any sensitivity to Cinnamon.
5ml
| | |
| --- | --- |
| Jojoba -Simmondsia chinensis | Glorious, golden Jojoba nourishes and conditions thirsty skin. Jojoba has unparalleled ability to moisturize the skin, balance oil production, deep clean pores, and create long-lasting conditioning effects that soften skin to perfect silk. It is packed with peptides and lipids and contains the highest levels of phenolic compounds found in nature along with antioxidants and all soluble forms of vitamin E! |
| Beeswax - Cera alba | Beeswax is beloved for its power to protect delicate lip tissue in a porous layer that locks moisture in and keeps toxins out. |
| Seabuckthorn - Hippophae rhamnoides | Seabuckthorn sends its lipids into the skin, diminishing imbalances from the inside out. This supercritical extract is packed with omega fatty acids 3, 6, 7, and 9, vitamin, palmitoleic acids, carotenoids, and phytosterols. A single drop of Seabuckthorn oil contains 190 different bioactive compounds. This bright orange essence is regenerative and complexion clearing - relaxing redness and paring puffiness. It helps to harmonize skin with sun. |
| Schizandra Berry - Schisandra spenanthera | These bountiful berries have been used for thousands of years to boost the body's chi. Known as "wu wei zi" in Chinese, this "five flavor fruit" contains a complex palette of flavors that are bitter, salty, spicy, sweet, and sour. |
| Blood Orange - Citrus sinensis | Living Libations Blood Orange Essential Oil is pure pleasantness for body and mind! Our Blood Orange Oil is organically harvested and steam distilled from the ripe fruit of the Italian Citrus sinensis. Sunny and sweet boosts the mood and the spirit with a smile. Skincare serums with this sunny treat, may feel regained firmness and elasticity. |
| Vanilla - Vanilla planifolia | Veritable Vanilla moves beyond the ordinary in a distillation 200 times more potent than vanilla extract. As it lends a hint of mouth-watering sweetness, this infamous ingredient delights the senses with tantalizing honey notes. |
| Cinnamon - Cinnamomum zeylanicum | Spicy Cinnamon oil warms its way onto lush lips. |
| Ginger - Zingiber officinale | Warm and zingy, it energizes the skin and assists with plumping and tinting the lips. |
| Turmeric - Curcuma longa | Treasured Turmeric is a tonic of golden-goodness for skin. Through supercritical extraction, all of Turmeric's lipophilic (oil-loving) compounds are captured from the plant's roots. This special extraction process captures much more of the aromatic volatile oils, lipids, and pigments than a typical powdered herb. |
Key Features:
Lip Balm
Cinnamon Lip Balm
Plumping Lip Balm